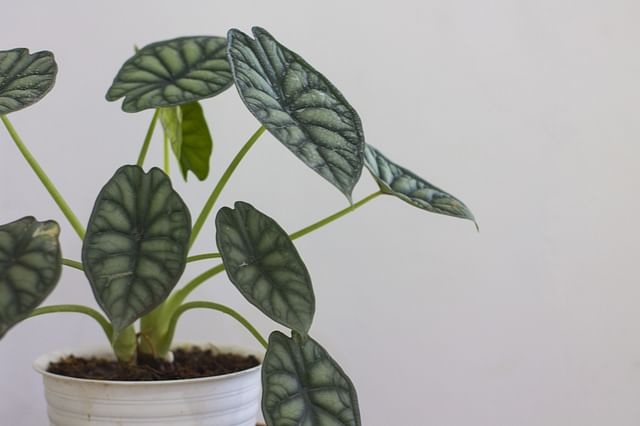 How to care for an Alocasia Silver Dragon
If you're a beginner plant owner, there's a good chance you've added an Alocasia Silver Dragon to your collection. This popular houseplant is known for its easy care and striking foliage. In this plant care guide, I'll walk you through the proper way to care for your Alocasia Silver Dragon so it stays happy and healthy.
These are the topics we're going to look at in this plant care guide:
Let's get started!
How often should I water my Alocasia Silver Dragon?
Alocasia Silver Dragons are tropical plants that love moist, humid environments. To keep your plant happy, make sure it has moist but not wet soil. You know it's time to water your Alocasia when the top inch of soil feels dry to the touch. On average, you should water your Alocasia Silver Dragon about once a week.
If your Alocasia Silver Dragon is having problems with overwatering, you will need to cut back on the amount of water that you are giving it. Make sure that the potting soil is completely dry before watering again. Overwatering can cause the roots to rot, and the plant may begin to yellow and wilt. Alternatively, if the Alocasia Silver Dragon is not getting enough water, it may experience problems such as wilting, leaf drop, and stunted growth. Yellow leaves don't automatically mean you're dealing with a watering issue though. When leaves are getting older, they'll turn yellow as well. In this case, yellow leaves are no problem and you can just trim them off.
When watering your Alocasia, it's ideal if you've got a drainage hole in the bottom of the pot, because that helps you to drain any excess moisture from the pot. To help prevent root rot, let the excess moisture drain out of the pot for about 5 minutes after you've watered it. The soil should have drained the excess moisture from the pot after those 5 minutes.
How much light does my Alocasia Silver Dragon need?
As with most tropical plants, Alocasia Silver Dragons need plenty of sunlight. Place your plant in a spot where it will get at least six hours of bright, indirect sunlight each day. Alocasia Silver Dragons need bright light but they can also tolerate some lower light levels for short periods.
The Silver Dragon needs bright, indirect light. This means the plant shouldn't get too much or too little light. Too little light will cause the leaves to become smaller and the plant to grow more slowly. If the plant is in an area that gets too much sunlight, the leaves will turn yellow and may die. If your Alocasia gets exposed to too much direct sunlight, this will cause sunburns on its leaves, so make sure that the sunlight is always indirect. You can place your plant behind a thin curtain or in a bright, but shaded spot in your house.
What type of soil should I use for my Alocasia Silver Dragon?
The most important factor to consider when choosing soil for your Alocasia Silver Dragon is how well it drains excess moisture from the pot. This plant prefers moist, well-drained soil, so soil with good aeration and drainage is ideal. A soil that is rich in organic matter will also be beneficial, as it will help to retain moisture and provide nutrients to the plant.
You can make your own potting mix by combining equal parts peat moss, perlite, and general potting soil. This mixture will provide all the requirements for keeping your Silver Dragon healthy. The potting soil will hold onto moisture and help to feed your plant. Perlite helps keep the soil aerated allowing any excess water to drain. Peat moss is a favorite for acid-loving plants, perfect for our Alocasia Silver Dragon! If you don't want to make your own mix, you can also purchase a pre-made houseplant potting mix from your local garden center.
How often should you fertilize an Alocasia Silver Dragon?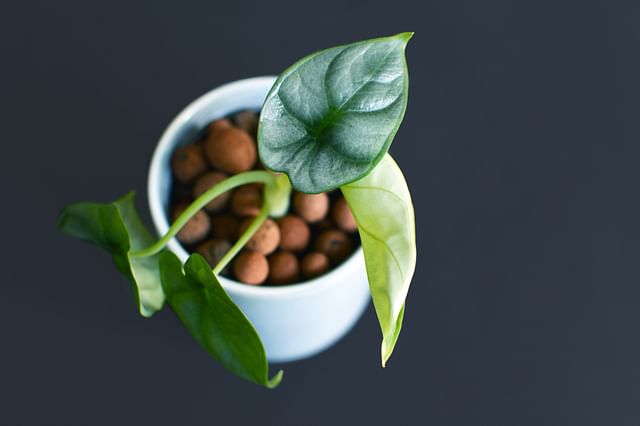 All plants need to be fertilized at some point, some plants just need more fertilizer than others. Alocasias are generally quite hungry plants because they like to grow quickly and produce many (large) leaves.
Fertilizing an Alocasia Silver Dragon helps the plant to grow larger leaves with more color and better overall health. Fertilize your plant in the spring and summer around every 2-3 weeks using a balanced 10-10-10 houseplant fertilizer. The easiest type of fertilizer is a liquid fertilizer, as you can mix this in with the water you'll use to water your plant. Make sure to follow the directions on the fertilizer package, as too much fertilizer can damage the plant.
In the fall and winter, when growth slows down, you shouldn't fertilize your Alocasia. During this time of the year, your plant will be resting and won't grow as much. This also means that it won't need or use any fertilizer. If you still fertilize your plant during this time, it'll quickly lead to overfertilizing, which can damage your plant's roots.
Is an Alocasia Silver Dragon safe for pets?
Like many other Alocasia plants, the Silver Dragon is very toxic to both humans and pets. The sap will cause skin irritation and, if ingested, vomiting and diarrhea. If your pets or small children are generally curious about your plants, it's best to keep this plant out of reach. If you notice that your pet has chewed on this plant's leaves or stems, make sure to call your veterinarian to get advice on what to do to help your pet.
How do I propagate my Alocasia Silver Dragon?
It's important to propagate your Alocasia Silver Dragon to keep the plant healthy, help it grow, or simply get new plants for free. Unfortunately, you can't propagate your Alocasia Silver Dragon from leaf cuttings, but there are two other methods for propagating your Alocasia; by division or by "seeds". You can find instructions for each method below.
Division
To propagate by division, carefully remove the plant from its pot and divide it into two or more sections. Each section should have at least one root ball and one set of leaves. Plant the sections in their own pots and water it well. This method is by far the easiest way to propagate your Alocasia and works for almost all types of Alocasias, not just the Silver Dragon.
Seeds
To propagate by seed, you'll first need to get the "seeds". These seeds are small bulbs that grow on the parent plant. Harvesting these looks a lot like propagation by division, but works slightly differently. Cover the seeds with a thin layer of vermiculite or sand and place the pot in a warm, bright location. Keep the soil moist but not wet and wait for the seeds to germinate, which can take anywhere from two to eight weeks. Once the seedlings have emerged, thin them out so that only the strongest plants remain. Transplant the seedlings into their own pots when they are large enough to handle.
How long does it take for the Alocasia Silver to grow flowers?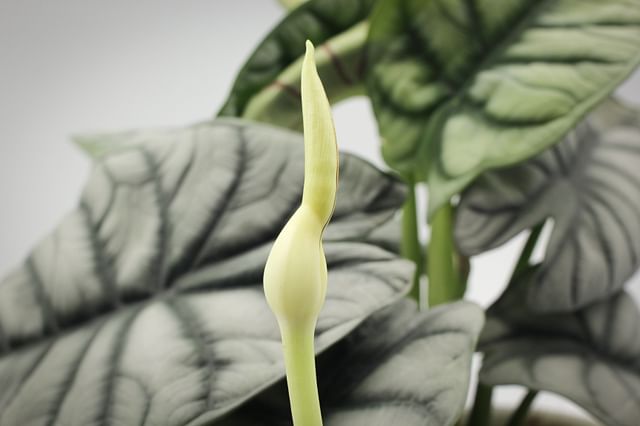 It takes about six weeks for the Alocasia Silver to grow flowers. The plant typically grows flowers when it's extremely happy in its environment, with the right amount of water and sunlight. The flowers will begin to bloom during the Spring and Summer months. These flowers generally don't stay around for very long. They're usually gone after a week or so, after which you can prune them off.
Conclusion
In this plant care guide, we've looked at how we can take care of an Alocasia Silver Dragon in your house! To keep your plant happy, you should make sure your Alocasia stays moist, has plenty of indirect sunlight, and is planted in well-draining, organic soil. By following these simple care instructions, you can enjoy your Alocasia Silver Dragon for many years to come!
Make sure to share this guide with your friends and family so they can learn how to take care of houseplants too! Thanks for reading this plant care guide! If you have any questions, don't hesitate to reach out to me or ask the members of the Plant care for Beginners Facebook Group for help!
Thank you for reading this post! I hope it helps you to keep your plants healthy and beautiful! If you're looking for more guides on specific plants, you can always request a plant guide to get a guide for the plant you have trouble with.
Posted on: Oct 8, 2022