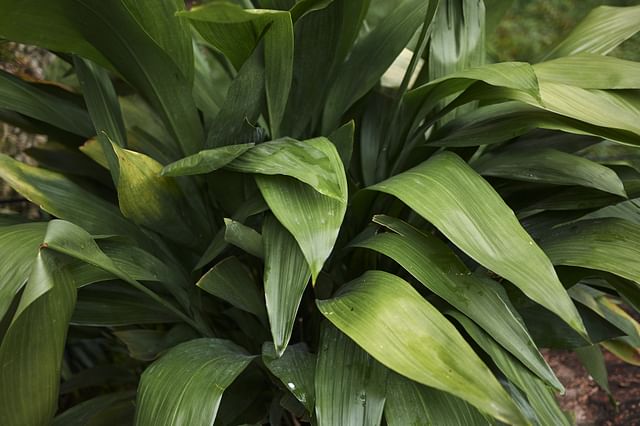 How to take care of a Cast Iron Plant (Aspidistra elatior)
Are you on the hunt for a houseplant that's both attractive and tough? If so, the Cast Iron Plant, also known as Aspidistra elatior or the Bar Room Plant/Ballroom Plant, is the plant for you. This plant is very tough, because it can thrive in low-light spots and live for many decades! With proper care, it can look gorgeous in your home or office. In this plant care guide, we'll look at how you can take care of your Cast Iron Plant, so it can stay happy and healthy!
In this plant care guide, we're going to look at these aspects of taking care of a Cast Iron Plant:
Let's get started and see how to take care of this tough plant in your house!
How often should I water a Cast Iron Plant?
Watering your plant properly is one of the most important things to keep it healthy for a long time. You can help your Cast Iron Plant stay healthy by giving it the right amount of water. You should water your plant when the top 2-5 cm (1-2 inches) of soil has dried up. You can check this by sticking your finger in the soil. Check the soil regularly if it's dry. If the soil is still damp when you check it, wait a few more days and check again. On average, you should water your plant once every 7-10 days in the summer and once every 10-14 days in the winter.
When it comes to taking care of your Cast Iron Plant, make sure you don't give it too much water. Too much moisture can cause root rot and other issues that can damage the plant. Since this plant is sensitive to overwatering, it's important you use a pot with drainage holes. This well help to to prevent overwatering your plant. After watering, check that any excess water is draining out of the drainage holes. Let the plant drain for about 5 minutes, and any excess moisture should have drained out of the pot.
It's also important to note that Cast Iron Plants prefer humid environments, so if your home has low humidity levels, consider misting them occasionally or using a humidity tray filled with pebbles and water beneath their pots (just make sure not to let the pot touch the water). This will help keep their leaves looking vibrant and healthy!
How much sunlight does a Cast Iron Plant need?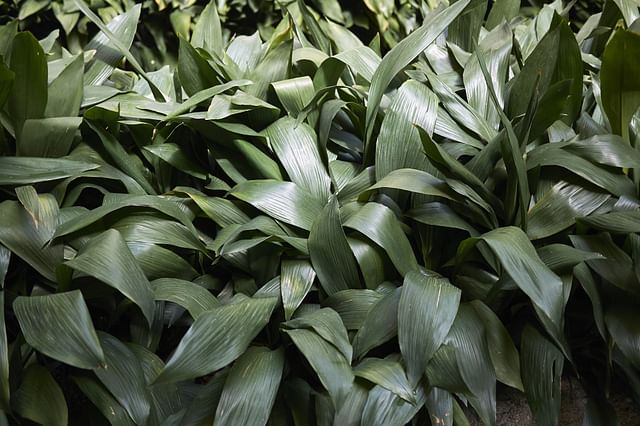 The second most important thing to keep your plant happy, after watering, is exposure to sunlight. The Cast Iron Plant is a highly tolerant plant, which means it can survive in low light conditions. In fact, they prefer to be kept away from the direct sun. In their natural habitat, these plants are ground-covering plants, so you should place them in an area that is like that in your house: an area that receives medium to low-light sunlight. If you only have dark spaces left, you can also use a grow light to give your plants a little extra light.
A good spot for the Cast Iron Plant is near a window with a curtain or in an area where it can get some kind of filtered light throughout the day. If your plant is placed too close to the window, especially during summer months, it could cause its leaves to burn due to the intense sunlight. You should also keep in mind that this plant does not like extreme temperatures and can struggle at temperatures lower than 10℃ or higher than 25℃.
Now, let's look at the best soil for your Cast Iron Plant, in case you're looking to repot it in the coming weeks!
What is the best soil for a Cast Iron Plant?
The Cast Iron plant is a plant that likes moist soil, so we'll need to use a potting soil mix that can hold onto moisture for a few days, but also drains any excess moisture well. The best soil for a Cast Iron Plant is a potting mix that is made up of equal parts soil, peat moss, and perlite. This combination of ingredients allows water to drain quickly while still holding onto enough moisture to keep the plant's roots healthy.
The soil holds onto moisture really well, the peat moss holds onto moisture well too, but also provides the potting mix with structure. This structure is especially important for those plants that love moist soil, because it prevents the soil from compacting over time. This keeps the soil nice and light, so the moisture can drain easily, but oxygen can also reach your plant's roots. The perlite is perfect for adding extra drainage to your soil and also provides extra structure.
Now it's time to see how and when to fertilize your Cast Iron Plant!
How do I fertilize a Cast Iron Plant?
Fertilizing your Cast Iron Plant is an essential part of keeping it healthy and looking its best. It grows slowly, so feeding it once per month during the spring and summer with liquid fertilizer will give it enough energy to stay healthy during the growing period.
When you're applying the fertilizer, add it directly to the soil and make sure you don't get any on the leaves. Use only a diluted amount of fertilizer, as too much could burn your plant's roots. Keep in mind that during winter months or if your Cast Iron Plant is not actively growing, fertilizing isn't necessary.
Remember that while providing your plant with nutrient-rich soil and regular fertilizing is important for its growth and health, but too much of either can damage the plant. Always check on your Cast Iron Plant's growth and condition closely, being mindful of signs of overfertilizing such as burned leaves or yellowing foliage!
What type of fertilizer is best for a Cast Iron Plant?
A Cast Iron Plant is an evergreen, hardy and low maintenance houseplant that does well when fertilized. For the best results, use a balanced fertilizer with equal parts nitrogen, phosphorus and potassium like 10-10-10 or 20-20-20. Make sure it's labeled as suitable for houseplants. Always make sure to dilute the fertilizer with water before using it to prevent damage to your plant.
Is it better to use organic or synthetic fertilizer for a Cast Iron Plant?
You can get nutrients for your Cast Iron Plant from natural sources like animal manure, composted plant matter, and fish emulsion. Those are called organic fertilizers. Synthetic fertilizers have chemicals that give plants more of certain types of nutrition but they work faster. Each type has its own pros and cons so decide what you like and what your Cast Iron Plant needs. In the end, they all work well for your plant, so it's a personal choice.
How do I propagate a Cast Iron Plant?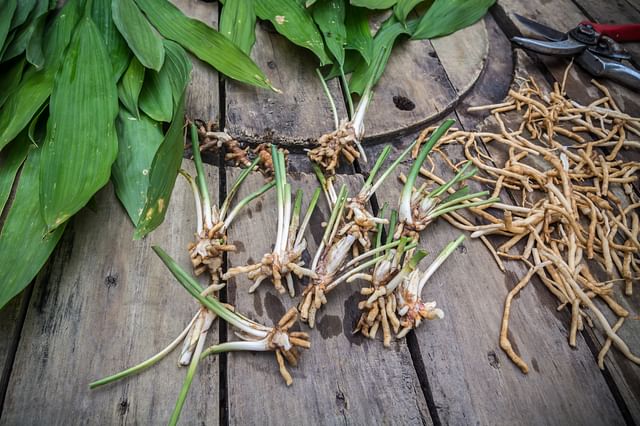 The best way to get new plants for free is by propagating them. You can also do this for a Cast Iron Plant! The easiest way to propagate a Cast Iron Plant is propagation through division. Propagation by division means that you'll split the plant into several smaller plants. Usually this means, cutting the plant off of the parent plant.
When your plant gets too big or starts to look overcrowded, you can divide it into new plants by digging up the entire plant and finding a part of the plant that has started growing its own roots. You can (carefully) cut this part of the plant from the parent plant and put this in its own pot. Be careful when untangling the roots, as these are quite fragile. It's important to keep most of the roots intact, because this will increase your chance of a successful propagation.
After you've planted your new plant in a pot, water it like you would normally. This "cutting" is now its own plant and needs to be watered and fertilized regularly.
How do I deal with pests on a Cast Iron Plant?
Pests can be a real problem for any plant. The good news is that most pests are not attracted to the Cast Iron Plant, so you likely won't need to do much in order to get rid of them.
The most common pests that may affect this plant are aphids, whiteflies, mealybugs, and scales. If you notice these on your Cast Iron Plant it's important to take action quickly. To get rid of these bugs you'll want to use an insecticidal soap or an appropriate bug spray. These should help eliminate the bugs from your plant without causing too much damage.
If you don't feel comfortable using chemicals, there are some natural methods for dealing with pests as well. For example, you could get beneficial insects like ladybugs and put them on your plant. They will help to control the pests on your Cast Iron Plant. You can also make a homemade spray using ingredients like garlic and neem oil which can help deter certain types of pests from coming near your plants.
No matter how you decide to tackle the pest problem, it's important to take action quickly before they spread too far. Once the pests are removed, be sure to keep an eye out for any new infestations and take action if necessary. With proper care and maintenance, these plants can thrive even in areas where pests might be an issue!
How do I repot a Cast Iron Plant?
Repotting a Cast Iron Plant is an important part of keeping the plant healthy and happy. It's not difficult to do, but there are some steps you must follow to ensure you're taking care of your plant in the best possible way.
Before repotting, make sure you have the necessary supplies on hand. You'll need potting soil (specifically for indoor plants), a new pot that is slightly larger than the current one, and some gardening gloves if you want to keep clean hands. You may also want to use scissors if your plant's roots have grown out of control.
Once you've collected all your supplies, you can start by gently removing the plant from its current container. Gently massage its roots to loosen them from the pot. You can then lift your plant out of the pot with both hands. Once free, check for any dead leaves or overgrown foliage that can be trimmed away before moving on to repotting.
Fill the new pot with softened-up soil until it reaches about two-thirds of the way up the container. This will leave enough room for expansion as your plant grows bigger over time. Now carefully place your Cast Iron Plant into the new pot and fill in any gaps around its root system with additional soil. It's important to fill in any gaps in the soil, as water could get trapped here and this can cause root rot and damage your plant!
The last step of repotting your Cast Iron Plant is to water it and let it settle in in its new growing environment.
How do I trim a Cast Iron Plant?
Trimming is an important part of caring for cast iron plants, as it helps keep them looking neat and healthy. Trimming involves removing dead or damaged leaves from the plant. To do this, use a pair of sharp scissors or pruning shears and cut the leaf off at the base of the stem.
When trimming your cast iron plant, take care not to prune too much - just remove the damaged leaves and no more. Pruning away too many leaves can harm the plant's health. If you're looking to do major trimming, it's best to wait until the spring or summer to do this. This is the growing period of the year and your plant will recover much more quickly during this time.
You can trim dead, dry, or diseased leaves all year round. When you trim these leaves, you're not just making your plant look better, but you're also preventing pests from showing up. Pests love dead and decaying foliage.
How do I revive a Cast Iron Plant that is dying?
Cast Iron Plants are hardy houseplants that can survive in difficult conditions. However, if your Cast Iron Plant is starting to look withered and droopy, it might need some help getting back to its vibrant self.
Fortunately, reviving a Cast Iron Plant is possible with just a few simple steps. The first thing you should do is check the soil's moisture level. Cast Iron Plants prefer slightly moist soil but don't like to stay wet for longer periods of time - too much water can cause root rot which can kill the plant. If the soil is too wet or too dry, adjust your watering schedule accordingly.
The second step is to make sure your Cast Iron Plant is getting enough light. While they prefer indirect light, they will tolerate low light levels better than bright sunlight which can burn their leaves. If you notice dry or yellowing leaves, perhaps your plant is getting too much sunlight and should be moved to a darker spot. Be sure to trim the discolored leaves.
Finally, make sure that the air around your plant is humid enough for them to thrive - this means keeping them in rooms with high humidity such as bathrooms or kitchens. You can increase humidity around your plant by grouping plants together and misting them regularly with water from a spray bottle or by buying a small humidifier to keep their environment moist.
By taking these steps and providing the correct amount of moisture, light, and humidity for your Cast Iron Plant you'll be able to successfully revive them and get them back on track!
Can a Cast Iron Plant be grown outdoors?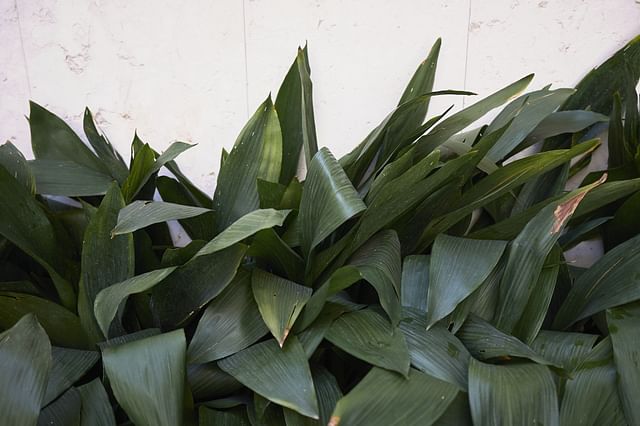 A Cast Iron Plant is a very tough plant, so you might be wondering if you can bring them outside to keep in your garden. Whether you can bring your Cast Iron Plant outside really depends on the climate where you live. These amazing plants are native to eastern Asia (China, Japan, Taiwan), so they live in a subtropical climate. These plants love warm and humid summers.
If you want to bring your Cast Iron Plant outside, make sure it's in a climate that's not too cold or dry. In temperate climates like the US, the plant will die back in winter, but come alive again when it's warm. Find somewhere for it where it gets medium or shaded light during the day and then protect it from strong winds and cold temperatures at night.
If you've found the perfect spot for your Cast Iron Plant, you can enjoy it indoors and outdoors throughout the whole year.
How long does a Cast Iron Plant live?
As we know by now, the Cast Iron Plant is an extremely hardy and resilient houseplant. It can survive low light and irregular watering schedules, making it a great choice for beginner plant enthusiasts! But one of the most impressive facts about this plant is its longevity. It has been known to live up to 50 years with the right care and growing conditions.
This makes it a great heirloom plant, as it can be passed down from generation to generation. It is also very resilient when it comes to temperature changes and occasional neglect; however, if you forget to water the Cast Iron Plant for too long or give it too much sun, its leaves may start to brown. To keep your Cast Iron Plant looking healthy, make sure that you're providing semi-regular watering (allowing the soil surface to dry in between) and indirect sunlight.
By taking care of this plant you can truly say that you can enjoy this plant for many years to come!
Conclusion
The Cast Iron Plant is an incredibly hardy and resilient houseplant, capable of living up to 50 years with the right care. It loves warm and humid climates but can also survive in temperate areas if they're getting adequate light and humidity levels. With the right care, such as regular watering schedules, indirect sunlight exposure, and occasional misting for added humidity, this plant will thrive for many years! So don't forget to share this guide with your friends and family so that they too can benefit from these tips on how to take care of their own Cast Iron Plant!
Thank you for reading this post! I hope it helps you to keep your plants healthy and beautiful! If you're looking for more guides on specific plants, you can always request a plant guide to get a guide for the plant you have trouble with.
Tags: beginner-friendly, tropical, low-light
Posted on: Jan 7, 2023