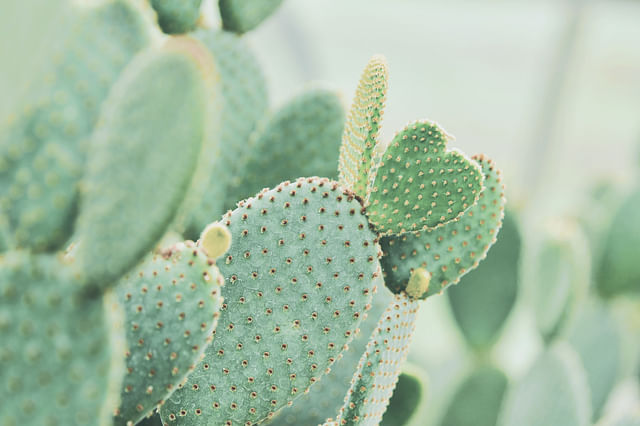 How to take care of an indoor cactus
Did you just get a cactus or are you thinking of getting one? Cacti are a great choice for plant owners who are looking for a low-maintenance plant for their living space. Cacti are especially great plants for beginning plant owners because they need very minimal care. With just a little bit of care, your cactus can thrive indoors.
In this plant care guide, we're going to look at everything you need to know about taking care of an indoor cactus. With these easy-to-follow plant care tips, you'll help your cactus thrive in your home, so you can enjoy your plant for many years!
These are the topics we're going to look at:
After you've finished reading this plant care guide, you'll have all the information you need to take care of your cactus and help it to stay healthy for many years to come. Let's get started!
How often do I need to water my cactus?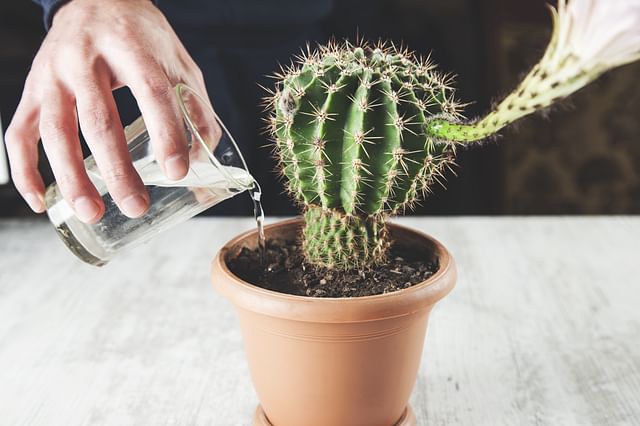 Watering your cactus is one of the most important aspects of cactus care. You want to make sure that you provide your plant with enough water without overwatering it, as this can cause root rot and other issues.
How often you need to water your cactus depends on the type of cactus, the size of the pot, and the environment in which it is growing. Generally speaking, most indoor cacti should be watered only once every 2 to 4 weeks during the growing season: usually in spring and summer. It's important to let the soil dry out completely in between watering them, as cacti are sensitive to overwatering and thrive in dry soil.
In winter, most cacti will go dormant and need much less water, you'll only have to water them once per month. To tell if your cactus needs water, simply poke your finger into the soil and see if the soil is dry. If it is, you can water your cactus again.
When watering your cactus, make sure to use lukewarm or room-temperature water. If you use cold or hot water, you might shock the cactus' roots and this could kill the plant. Water thoroughly until the soil is damp all the way through. If you're using a pot with a drainage hole, you should let any moisture drip out of the bottom of the pot for about 5 minutes. This helps to remove any excess water from the pot, as standing water can cause root rot and fungal diseases.
What kind of light does a cactus need?
Cacti naturally grow in warm and dry areas, usually in deserts. In its natural habitat, a cactus is getting strong, direct sunlight all day long. So if we want to help our cactus to thrive, we'll need to give it a similar environment to the desert: lots of sunlight and warm temperatures.
The perfect spot for your cactus is in a spot where it gets direct sunlight: near a south or west-facing window. Indirect sunlight will also work, but be sure it's in a spot that gets bright light for at least 6 hours per day. For the best result, you should also rotate your cactus regularly so that all sides of the plant are exposed to the light evenly. Rotating your cactus has 2 reasons: it helps your cactus get enough light, but it also helps to prevent your cactus to grow to one side if it's never rotated.
Some cacti, especially those with very thin leaves, will do better in spots where they get bright, but indirect sunlight. These cacti aren't as tough as the thicker cacti and could get sunburns from direct sunlight. If you're unsure whether your cactus should be in direct or indirect sunlight, give them the brightest spot you can find where it's not getting any direct sunlight during the day.
Enough sunlight is essential to keeping your cactus healthy, so be sure to give it a spot in your house where it gets the sunlight it needs and it'll be a happy cactus!
Can I put my cactus outside in the summer?
When you've got a nice cactus and it's a little warmer outside during the summer, you might be wondering if you can bring your cactus outdoors to enjoy the sun! The short answer is: Yes, you can put your cactus outdoors during the summer months, but only if you live in an area where the cactus can survive during the summer.
For your cactus to survive outside during the summer, it should be able to handle temperatures ranging from 45-95 degrees Fahrenheit (7-35 Celsius). Even if the temperatures are perfect for your cactus, it's best to keep it protected from strong winds and direct sun—especially during the hottest hours of the day.
Before you bring your indoor cactus outdoors for the summer, make sure you acclimate it to its new environment gradually. Begin by putting the plant outside in the partial shade or indirect sunlight and eventually move it into the full sun over several weeks. By moving your cactus outside and letting it acclimate, you'll help your cactus adjust to its new environment and avoid shock, sunburns, or other damage.
What is the best potting soil for cacti?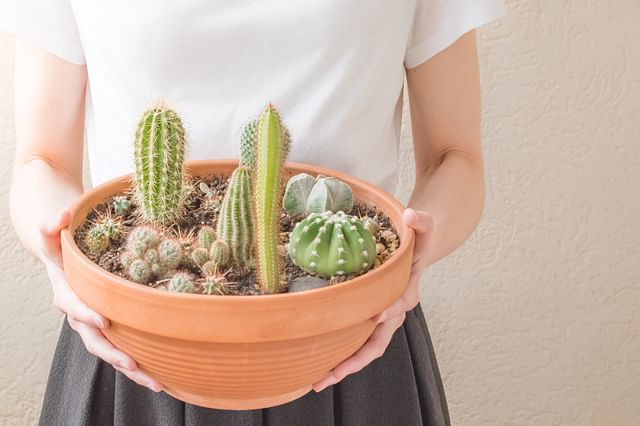 We've already looked at the two most important parts of taking care of a cactus: Sunlight exposure and watering it properly. However, a close third important topic is its soil.
When choosing a potting mix for your cactus, choose one that is specifically designed to be used with succulents and cacti. These soil mixes contain ingredients like peat moss, perlite, pumice, sand, and composted bark. These ingredients make the soil drain moisture to the bottom of the pot very quickly, so minimal excess water stays behind in the pot. The cactus thrives in a dry environment after all.
I mentioned in the section about watering that any excess water will drain to the bottom of the pot. If the excess water stays in the pot it could cause root rot, so it's important to let this excess water drain from the pot. The best way to do this is to always use a pot with a drainage hole in the bottom. This helps prevent root rot and other issues caused by overwatering. You can also add a little gravel to the bottom of the pot, as this prevents the soil to fall out of the pot too easily.
Should I fertilize my cactus?
Most cacti are slow-growing plants, you're lucky if you see significant growth during the growing season. Like most other slow-growing plants, fertilizing isn't necessary. Your cactus will absorb the nutrients from the soil when you water it, which is plenty to help it stay healthy.
However, if you'd like to help your cactus grow a little bit more quickly, you can. If you want to fertilize your cactus, look for a fertilizer specifically designed for succulents and cacti. These fertilizers are typically high in phosphorus and potassium, which are important nutrients for healthy cacti growth.
The best fertilizer to use for a cactus is a liquid fertilizer, which you add to the water when you water your plant. Your cactus can absorb these nutrients more easily and you can control the strength of the fertilizer much more easily.
In general, most cacti only need to be fertilized once every three months during their growing season: once at the beginning of spring and once at the beginning of the summer. During the winter, when your cactus goes dormant, you shouldn't fertilize it.
Even if you decide not to give your indoor cactus any fertilizer at all, it should still stay healthy as long as it gets the sunlight and water it needs. The cactus is an easy-going plant when it comes to fertilizer.
How can I propagate a cactus?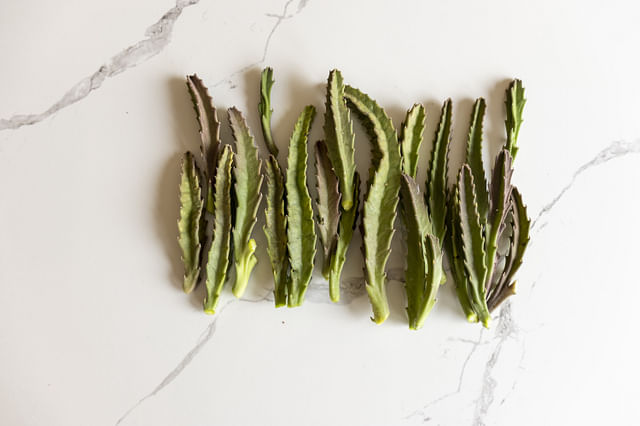 Propagating a cactus is a great way to get more of the same plant for free! Who doesn't love free plants!? Luckily, propagating cacti is quite easy to do!
When you're propagating your cactus from a cutting, select a healthy, mature stem from the cactus that has at least two or three small buds or areoles on it (these are the small bumps where spines come out). Cut the stem just below one of the areoles, making sure it's at least 5-7 cm (2-3 inches) long.
After taking the cutting, you should let the cut end dry in an airy and warm location for two or three days before planting it in a pot of well-draining soil. Make sure you use a pot with drainage holes at the bottom and that it's large enough for your cutting to fit comfortably. This means that it should have around 2-3 cm (1 inch) of space around it. After you've planted your cutting, water it lightly and place it in an area where it will get plenty of bright light but not direct sunlight. The cutting isn't strong enough to handle direct sunlight yet.
When you let the cutting dry out for 2-3 days, you're much more likely to propagate your cactus successfully. If you were to put your cutting into the soil right after removing it from the parent plant, you run the risk of infecting your cactus cutting with diseases or bacteria. This often kills the cutting, so your propagation won't be successful.
If you want to propagate by offsets instead, wait until your cactus has grown several new "babies". The baby cacti will grow out of the base of the parent cactus. Gently twist each offset off its parent plant without damaging the roots and place them on top of well-draining soil in individual pots. Water these propagated offsets a little bit at a time, to prevent the soil from staying wet for too long. Once the offsets have adjusted and have grown more roots in their new pot, you can water it as if they were a fully-grown cactus.
It might take a while before your new cactus starts to grow, but this is normal: cacti usually don't grow very quickly anyway.
How big will my cactus get?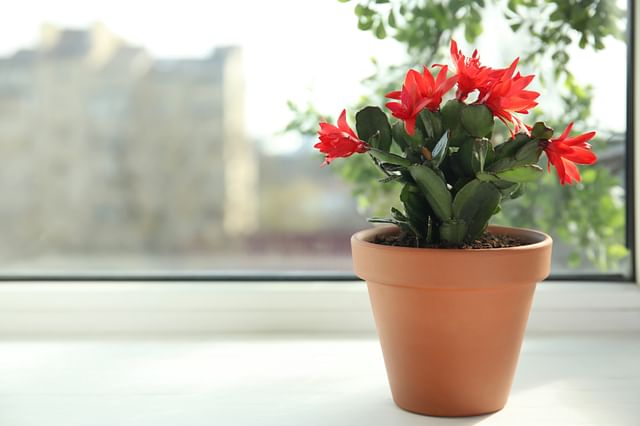 You might have seen giant cacti before, but also tiny ones. So you might be wondering how large your cactus can grow indoors. Unfortunately, there is no clear answer, as there are very many different types of cacti out there. Some stay small, while others can grow as large as a tall as your house.
The size of your cactus depends a lot on the type and species. Smaller types such as Christmas cacti and Bunny Ear cacti tend to stay quite small. When they're fully grown, they generally don't get taller than a few feet. On the other hand, larger types like Golden Barrels and Saguaros can quickly become quite tall. Some of them can even reach heights of up to 20 feet!
Luckily you can help some of the bigger cacti to stay smaller if that's what you want! For example, if you're growing your cactus in a small pot with very little space to spread out and grow, your cactus won't grow past a certain height.
However, you can also help some of them to grow larger if that's what you want. If you're fertilizing your cactus throughout the growing season and watering it perfectly, your cactus will grow slightly faster and bigger than one that is always dry and doesn't receive a lot of care.
How do I know if my cactus is sick or not?
Sometimes your plants start to look a little different and you might wonder if you've done something wrong or if the plant is doing okay. That's normal and is something every plant owner goes through, even if you've taken care of plants for many years.
So how do you know if your plant is sick or not? One of the easiest ways to tell if your cactus is healthy or not is to look for signs of growth. A healthy cactus grows and blooms throughout the year, so if yours isn't doing either of those things, it might be telling you there is a problem.
Other common signs that a cactus is sick include wilting leaves, black spots on the skin, indented areas where the flesh appears to be rotting, and excessive amounts of sap seeping from cuts in the skin.
If you think your cactus is sick or has been infected with a virus or fungus, take it to a local nursery or garden center to ask for help on what to do. You can often still save your cactus if you spot the issues quickly.
You can also ask for help in our Facebook group! The community is very friendly and is always happy to help you figure out what's wrong with your plant!
What's the difference between a succulent and a cactus?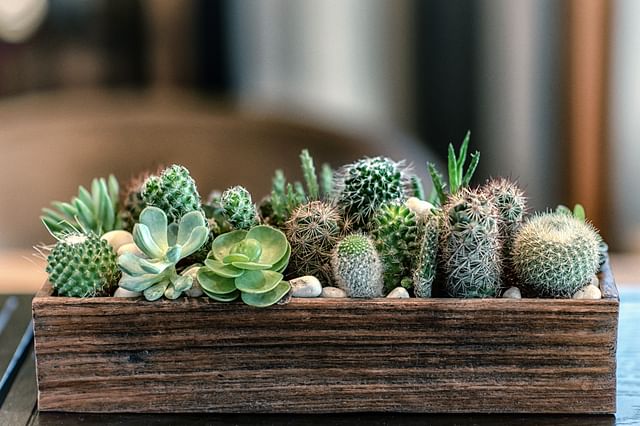 If you've looked at several plants before and compared them, you might have noticed that cacti and succulents are very similar in care. That's because they're closely related to each other!
Cacti and succulents both store a lot of moisture inside of themselves. The biggest difference between a cactus and a succulent is the fact that a succulent has leaves and fleshy skin. Cacti have sharp pricks, very tough skin, and very rarely have leaves. Cacti generally only have stems, but every once in a while, a cactus does have leaves, like the African Milk Tree.
Conclusion
Now that you know how to take care of an indoor cactus, it's time to get one yourself if you don't already! Cacti make great houseplants because they are low-maintenance and can thrive in many different types of environments. Be sure to share this guide with your friends and family so they can learn how to take care of plants too!
Thank you for reading this post! I hope it helps you to keep your plants healthy and beautiful! If you're looking for more guides on specific plants, you can always request a plant guide to get a guide for the plant you have trouble with.
Tags: drought-loving, sun-loving
Posted on: Dec 17, 2022