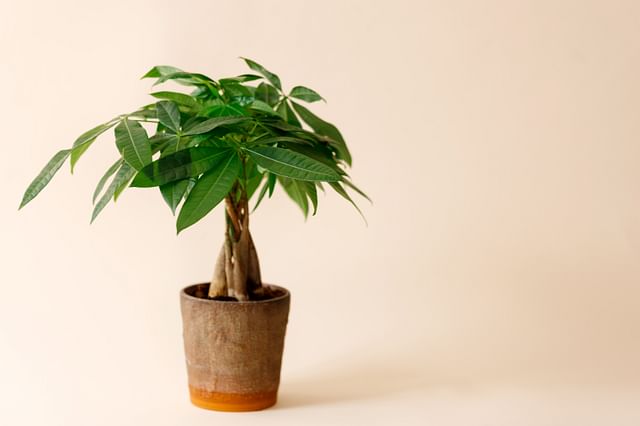 How to take care of a Money tree (Pachira Aquatica)
Many houseplants grow quite slowly or stay small. This isn't for everyone, because some of you (including myself) love big and bold plants! Bigger plants are great statements in any room and will add some texture to your walls or furniture. What if there was a fast-growing statement plant that's also incredibly easy to take care of? Such a plant exists and it's the Money Tree!
If you've been considering adding a houseplant to your home, the Money tree (Pachira Aquatica) is a great option. It's easy to take care of and is known for its ability to bring good luck and fortune. In this plant care guide, we will discuss how to take care of a Money tree so that it thrives in your environment.
These are the topics we're going to discuss in this plant care guide:
Let's get right into it and help you to bring some extra plant care skills to taking care of this lucky tree!
How much light does a Money tree need?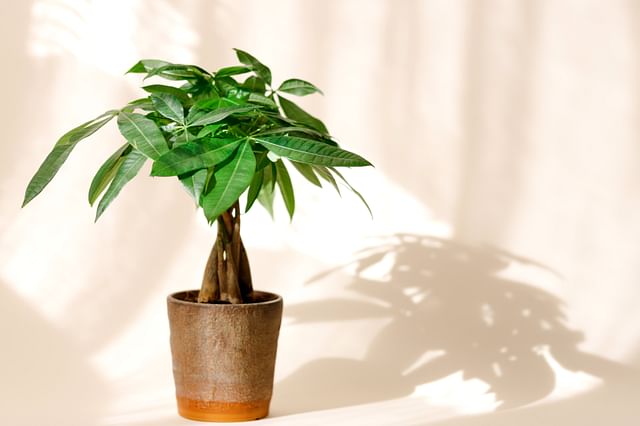 The Money tree naturally grows in freshwater swamps and river banks in tropical rainforests in Central America. Knowing the natural habitat of the plant helps us understand how much light a Money tree needs. Money trees prefer bright, indirect light but can also tolerate low-light conditions. If you are growing your Money tree indoors, place it near a window where it will receive plenty of natural light.
However, make sure your money tree isn't getting too much direct sunlight. Too much direct light can cause the leaves to bleach and too little sunlight makes the plant become leggy. When a plant becomes "leggy" that means it has really long, stretched, stems, with just a few leaves on the top.
How often should I water my Money tree?
Like most tropical plants, the Money tree also enjoys slightly moist soil. You can keep your Money tree happy by watering the plant when the top inch of soil feels dry to the touch. Depending on the size of your plant and the pot it's in, this may be once a week or once every two weeks.
Water slowly and deeply, until water starts to come out of the drainage holes at the bottom of the pot. Allow the plant to drain for a few minutes until the excess moisture has drained from the pot. Be sure to not overwater your plant as this can cause root rot.
The Money Tree loves moist soil but doesn't like to grow in standing water. It stores a lot of moisture in its stems, so it prefers to soak up the moisture from the moist soil and let the soil dry out before you water it again.
How much humidity does a Money tree need?
We've already learned that the Money Tree naturally grows in swamps in South America. If you look at its natural habitat, you'll see that it likes humidity. Like its natural rainforest habitat, the Money tree requires humidity; about 50-60%. You can provide this by using a humidifier or placing the plant's pot on a tray filled with pebbles and water.
If you're looking for other ideas to raise the humidity in your house or around your plant, have a look at "10 ways to raise the humidity in your house".
How large does a Money tree grow?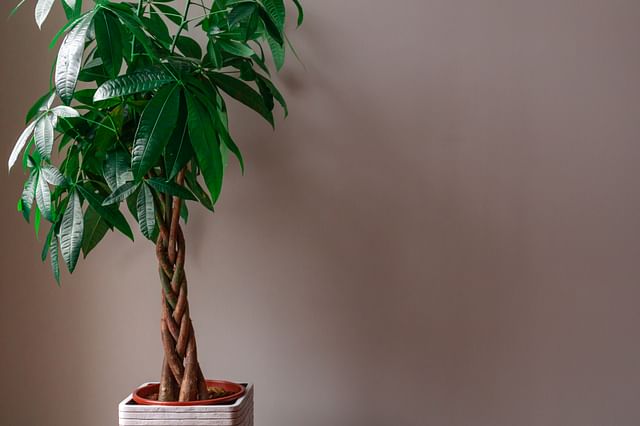 A Money tree can grow up to 60 feet tall in its natural habitat, but it will only reach a fraction of that size when grown indoors. A potted Money tree will typically only grow to be about 180cm to 200cm (six to seven feet) tall when placed indoors. Not only does it grow quite tall, but it also likes to grow horizontally once it has reached its "indoor" height. Put all of this together, and the plant will be quite a large plant in your house or office once it has fully grown.
You can trim the plant back and use the cuttings to propagate this plant, but more on that later!
What type of soil should I use for my Money tree?
The Money tree grows best in rich, loamy soil that is well-draining. You can use most general houseplant potting soils, as these usually contain plenty of nutrients and drain quite well. You can also make your own soil mix by combining one part potting soil, one part peat moss, and one part perlite. This mixture lets oxygen through quite well, holds onto moisture, but also drains excess moisture quite quickly. This allows your Money tree to soak up all the moisture it needs, with a low chance of getting root rot.
If your pot does not have drainage holes, make sure to add a layer of rocks or gravel to the bottom before adding the soil. This will help ensure that excess water can drain out of reach of the soil and avoid root rot. Also if you're unable to water your Money tree for a longer period of time, you can add a layer of mulch to the soil surface in order to retain moisture.
When should I fertilize my Money tree?
Fertilizing your plants can help them grow and also be more resistant to pests. We recommend fertilizing your Money tree every two to three weeks during the growing season (Spring and Summer). You can use a standard houseplant fertilizer or a slow-release fertilizer. Be sure to follow the instructions on the fertilizer package for how much to use.
During the fall and winter, you shouldn't fertilize your Money tree at all, as it won't need the extra energy to grow. During the fall and winter, the Money Tree will slow down its growth until the spring. During this time, you shouldn't fertilize your plant, as this could lead to overfertilizing. Overfertilizing can burn the roots of your plant, which will slowly kill the plant.
How can I propagate a Money tree?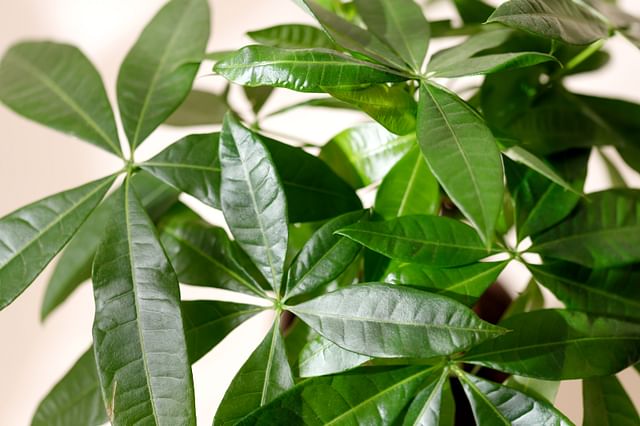 A Money tree is important to propagate because it is a symbol of good luck and prosperity. Money trees can be propagated through three different techniques; seed, cuttings, or air-layering. You can find instructions for each method below.
Seeds
To propagate through seed, plant the seeds in a moist potting mix. Cover the seed container with plastic wrap to help retain moisture and place it in a warm location. Keep the soil moist but not soggy and germination should occur within two to three weeks.
Cuttings
To propagate through cuttings, take a six-inch cutting from a healthy Money tree and remove the bottom leaves. Dip the cut end of the stem in rooting hormone and plant it in a moist potting mix. Cover the cutting with plastic wrap to help retain moisture and place it in a warm location. Keep the soil moist but not soggy and new roots should form within four to six weeks.
Air-layering
To propagate through air-layering, choose a branch on your Money tree that is at least six inches long. Make a small cut in the bark of the branch and dust the wound with the rooting hormone. Wrap the wounded area tightly with moist sphagnum moss and secure it with plastic wrap or twist ties. Keep the moss moist and new roots should form within four to six weeks. Once the roots have formed, you can cut the branch below the moss and pot it up in a moist potting mix.
I advise that you wear gloves and avoid touching the skin around your eyes during propagation, as the sap can sometimes cause irritation.
Is a Money tree safe for pets?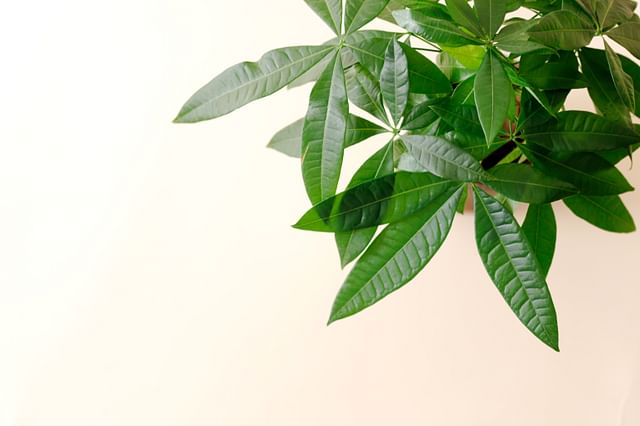 The Money tree is generally considered to be safe for pets, but it is always best to consult your veterinarian if you have any concerns. The main concern with the Money tree is that its leaves can cause an upset stomach if ingested in large quantities. Also, the plant's sap can be irritating to the skin and eyes, so it is best to keep pets and small children away from the Money tree.
If you think your pet has eaten a large amount of any plant, it is always best to contact your veterinarian.
Conclusion
That's all you need to know about how to take care of a Money tree! Taking care of your Money tree can be simple- with plenty of indirect sunlight, a well-draining rich and loamy soil, enough water for slightly moist topsoil, and fertilizer during the growing season (Spring and Summer). With proper care, your Money tree will thrive indoors and bring you good luck for years to come.
I hope you found this guide helpful! Please share it with your friends and family to help them take care of their plants too. If you have any questions, please don't hesitate to reach out to me or ask the members of the Plant care for Beginners Facebook Group for help!
Thank you for reading this post! I hope it helps you to keep your plants healthy and beautiful! If you're looking for more guides on specific plants, you can always request a plant guide to get a guide for the plant you have trouble with.
Tags: moisture-loving, humidity-loving, tropical
Posted on: Oct 1, 2022