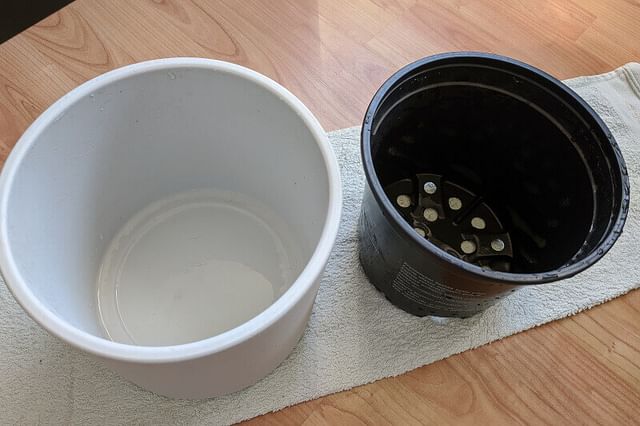 Washed nursery pot and waterproof pot
How to clean your pots for use with Leca
When you're planning on using Leca to grow your plants, you'll need to clean your pots thoroughly. The goal is to get rid of as many impurities, like soil, as possible. Leftover soil could cause problems, like fungi, later on and it's best to avoid this altogether. This is why we clean our pots.
Requirements
We only need a few items to properly clean our pots, these items are:
Dish soap
Sponge
Nursery pot (plastic pot with holes at the bottom)
Outer (waterproof) pot
Getting started
To get started, get the nursery pot and the waterproof pot that you chose to use with Leca and wash them both thoroughly with water and soap. It's best to use a sponge for this because your hands won't be able to get in all places. There is always a corner of the pot you simply can't get to with your fingers, but the sponge makes this much easier. When they're all clean, you can let them dry. You can let them air dry in case you're also preparing your Leca or use a towel to dry them of for instant use.
When your pots are cleaned, you can use them with Leca and you won't have to worry about any problems later on.
Thank you for reading this post! I hope it helps you to keep your plants healthy and beautiful! If you're looking for more guides on specific plants, you can always request a plant guide to get a guide for the plant you have trouble with.
Posted on: Sep 5, 2020
Last updated on: Sep 10, 2020