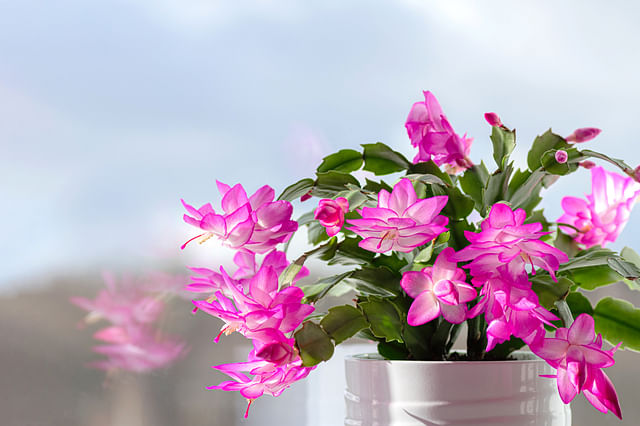 How to care for a Christmas Cactus
If you are like many people, you may have received a Christmas cactus as a gift. These plants are popular during the holiday season because they are easy to care for and can bloom beautiful flowers. In this plant care guide, we will discuss how to care for your Christmas cactus so that it stays healthy and blooms flowers year after year.
Like many other cacti, the Christmas cactus is a low-maintenance plant that's perfect for those of us who tend to forget about our plants! This plant thrives on neglect and is happy to wait several weeks before it's being watered!
In this plant care guide, we're going to look at these aspects of taking care of a Christmas Cactus:
Let's see how we can give our Christmas cactus the best care we can to help it thrive and start to bloom in your house!
How should I water my Christmas cactus?
Watering plants can be easy when you know how to check the soil for moisture. And there are a few things to keep in mind when watering your Christmas cactus.
How often should I water my Christmas cactus?
As I've mentioned in the introduction, the Christmas cactus thrives on neglect! This also means it doesn't need to be watered very often. Ideally, you should water your Christmas cactus about once every 2-3 weeks, or when the soil has dried out. Be careful not to overwater your plant, as this can cause root rot. If the top inch of soil still has some moisture, there's no need to add water.
How much water should I give my Christmas cactus?
When you water your Christmas cactus, be sure to give it enough water so it'll start to drip out of the bottom of the pot. Empty any water that collects in the saucer under the pot after watering. At this point, you can let the pot drain the excess water for about 5 minutes. After 5 minutes, the soil has absorbed the moisture it can hold onto and drained the excess moisture.
When is the best time to water my Christmas cactus?
The best time to water your Christmas cactus is in the morning so that the plant has time to absorb the water throughout the day. But remember to check the soil before watering the Christmas cactus.
How much sunlight should my Christmas cactus get?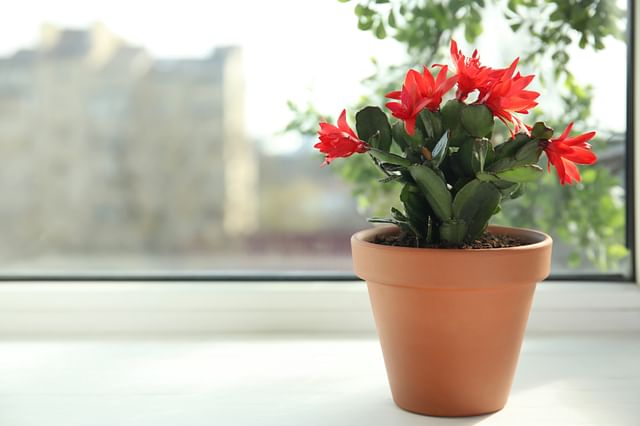 Your Christmas cactus should be placed in a location where it will receive indirect sunlight. I recommend four to six hours of indirect sunlight each day. Too much direct sunlight can cause the leaves of your plant to burn. But alternatively, not enough sunlight can cause the plant to stretch and the leaves to get a faded color. If you live in a home with little natural light, you can use a sunlamp or light box to help your Christmas cactus grow.
What type of soil should I use for my Christmas cactus?
When potting or repotting your Christmas cactus, be sure to use a well-draining cactus or succulent potting mix. Most succulent potting mixes are perfect for keeping the soil moist and draining excess water quickly. It's also full of nutrients to help the Christmas cactus grow!
If you're looking for ways to make your own cactus soil, you should mix 1 part potting soil with 1 part fine-grained sand, and 1 part perlite. This mixture allows the potting soil to hold onto moisture for your cactus but also makes sure most of the moisture is drained to the bottom of the pot, away from the plant's roots.
What is the best temperature for my Christmas cactus?
Since the Christmas cactus likes a healthy mix of shade and sunlight, the popular houseplant also enjoys mild temperatures. Your Christmas cactus will do best in normal room temperatures: between 18 and 23 degrees Celsius (65 and 75 degrees Fahrenheit).
Most houses are already the perfect temperature for your Christmas Cactus, so you most likely don't have to find a special place that's warmer or colder.
What is the difference between a Christmas cactus and a Thanksgiving cactus?
You might have heard of the Christmas Cactus and the Thanksgiving cactus and thought they'd probably be the same plant. However, they are 2 different plants that happen to look a lot alike.
Both plants are in the genus Schlumbergera, but the Christmas cacti (Schlumbergera truncata) and Thanksgiving cacti (Schlumbergera Buckleyi) are two different species. The main difference between these two plants is that the Christmas cactus has shorter, rounder leaves, while the Thanksgiving cactus has longer, more pointy leaves.
The more you know!
When should I repot my Christmas cactus?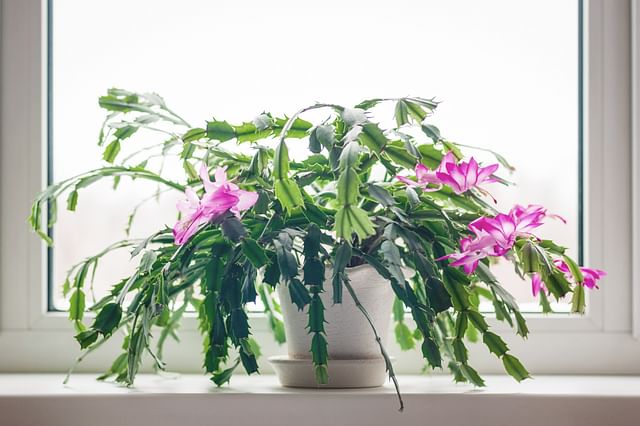 If you've had your Christmas cactus for a year or more, you might be wondering if and when you can repot your plant. Like most other succulents and cacti, you don't have to repot the Christmas Cactus very often. It's a slow-growing house plant, so it can be in the same pot for 2 or 3 years before it needs to be repotted into a larger pot.
Just like any other plant, it's good to repot them when they grow too big for their pot, as this will encourage healthy growth. You can repot your Christmas cactus every two to three years, or when the plant becomes potbound. When repotting, be sure to use a well-draining potting mix and a pot that is only one size larger than the current pot.
How do I repot my Christmas Cactus?
To repot your Christmas cactus, remove the cactus from its pot. If the pot is stuck, you can use a knife to help pry it loose. Next, grab a new pot with drainage holes for your Christmas Cactus. These holes will allow for drainage so the cactus can grow healthy roots and is less at risk of getting too much water. Then, fill the new pot with soil and place the cactus in it. Make sure not to pack the soil too tightly, otherwise, water won't be able to drain properly out of the pot. Finally, water the cactus well.
When is the best time to repot my Christmas Cactus?
The best time to repot your Christmas Cactus is at the end of February, right at the beginning of spring. Most houseplants, including the Christmas Cactus grow the fastest during the spring and summer, as it's warmer and the sun is stronger. This time of year is perfect for repotting plants because your plant will recover more quickly and will settle into its new pot more quickly.
When do I need to fertilize my Christmas cactus?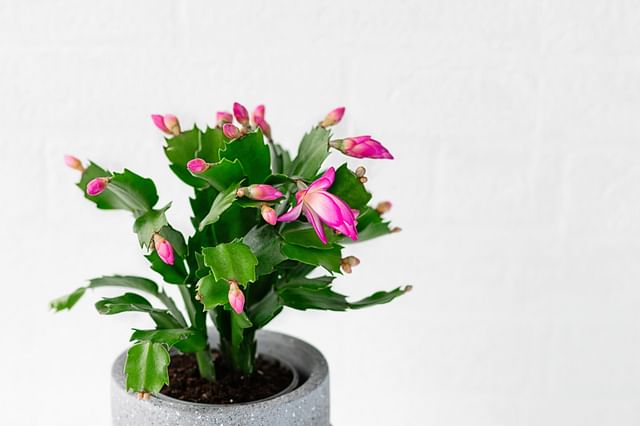 All plants need nutrients to grow and recover from any pest or disease. Cacti are no different, they just require different fertilizers than tropical houseplants.
You should fertilize your Christmas cactus about once a month during the growing season, which is from March to September. Be sure to use a fertilizer that is specifically designed for cacti and succulents. Fertilize the Christmas cactus according to the package instructions. These instructions make sure that you dilute the fertilizer enough, to not cause overfertilizing your plant. Overfertilizing your plant can cause root damage, so it's important to follow the instructions of the manufacturer.
What are some common problems with a Christmas cactus?
All houseplants deal with issues from time to time. The Christmas cactus lukcily isn't very susceptible to pests, but it does have some common problems. Some common problems that can occur with a Christmas cactus include overwatering, which can lead to root rot, and insufficient sunlight, which can cause the plant to stretch and the leaves to turn yellow. If you notice either of these problems, be sure to adjust your care routine accordingly.
Conclusion
The Christmas cactus is an easy houseplant to care for when you have all the tools you need. And the effort is worth it when your cactus begins to bloom beautiful flowers! With indirect sunlight, mild temperatures, proper soil, and a little bit of water, your Christmas cactus will thrive. It's important to adapt its care routine if problems arise to keep your Christmas cactus happy and healthy. Be sure to share this guide with your friends and family so they can also enjoy taking care of their own plants!
Thank you for reading this post! I hope it helps you to keep your plants healthy and beautiful! If you're looking for more guides on specific plants, you can always request a plant guide to get a guide for the plant you have trouble with.
Tags: drought-loving, beginner-friendly
Posted on: Oct 29, 2022