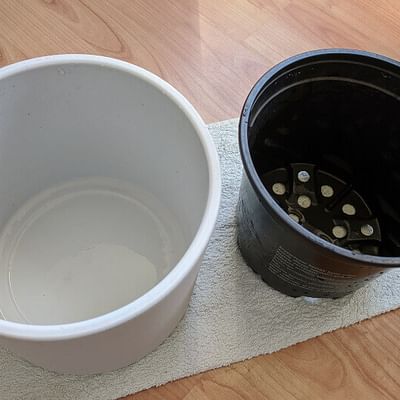 Mkono 6.5" Plastic Pots for Plants with Trays, Indoor Set of 5 Plastic Planters Modern Flower Plant Pot with Drainage Hole for All House Plants, Herbs, Flowers, and Seeding Nursery, Cream White
Description
【Minimalist Design】 Designed with a matte CLASSICO color finishing exterior in soft, round shape, the plastic planters can bring out a modern stylish visual representation for your beloved plants while blending in with your home office decor. Glossy interior for easy cleaning or replanting is an additional attraction. It can be an impressive gardening gift!

【Optional Drainage System】 Not only comes with a drill hole in the bottom for drainage to help prolong the life of your precious plants, but also goes with detachable saucers to catch excess water. Besides, matching rubber plugs can be installed to block water and soil, perfect for hanging up with macrame hangers. Your choice for flexible use!

【Thick and Durable Material】 Made of lightweight but super sturdy thick-walled polypropylene over 0.1 inch, our flower nursery pots will withstand breakages and drops, durable for seasons to come. It can accompany your lovely plants for a lifetime.

【Make Your Own Garden】 Set of 5 indoor planters are 6.5" in Opening Diameter, 4.75" in Bottom Diameter, 6" in Height, suitable for growing most indoor and outdoor small to medium-sized plants like snake plant, peace lily, ZZ plant, mint, orchid, parlor palm, cactus, aloe, or herbs, brightening up your living place. Note: Plants and props NOT included!

【Spruce Up Your Room】 Decorative plastic pots matching with drainage plugs and 5.5" saucers, a simple way to style your windowsill, desktop, shelf, balcony, livingroom, and garden. It is a good start to invite nature in! If missed the plugs or pallets, please contact us to reissue. Mkono is a registered trademark and our product is professional manufacturing and sole selling.
Additional details
Features
Manually verified quality product
Great value for the price
Customers also bought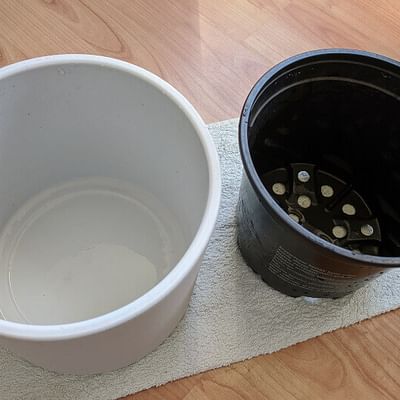 ZMTECH Plant Pots, 20cm Self Watering Plastic Flower Pot with Saucers, Modern Round Planter with Tray for Indoor and Outdoor Plants, 3 Pack, White

In this guide, we'll go over the process of converting a Monstera Deliciosa planted in soil to planting it in Leca. This process is very similar for any Monstera, so if you don't have a Monstera Deliciosa you can still follow along with the steps.