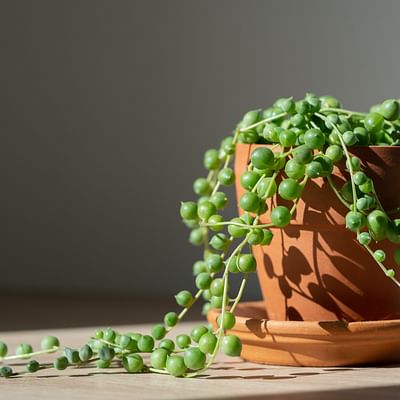 Shop Succulents | String of Succulents Collection | String of Pearls (Senecio Rowleyanus) Live Outdoor/Indoor Hanging Succulent Plant | Fully Rooted in Soil
Description
INCLUDED IN PURCHASE | (1) String of Pearls (Senecio Rowleyanus) rooted in a medium (4 inch) pot.

WATERING NEEDS | Succulents are very sensitive to overwatering, and damp soil can cause root rot. Allow soil to dry out completely between waterings. Water once every one to two weeks.

EASY CARE | String of Pearls is the all time classic must have of succulents! It's leaves grow in perfect little round balls delicately hanging from it's delicate long stems. This plant prefers plenty of filtered sunlight and protection from frost. This succulent tends to need a little more water than most. It propagates easily from cutting. This is a trailing plant that does nicely both indoors and outdoors.

SOIL | SUN | POTTING | A succulent and cactus mix soil is perfect. The soil needs to have good drainage. Senecio Jacobsenii likes plenty of sunshine and to be protected from frost. Trailing Jade enjoys growing in hanging containers or as a ground cover.

USES | These trailing plants are versatile and fun! Simply plant them in your favorite pot to decorate your home or office. Succulents make perfect gifts!
Additional details
Features
Manually verified quality product
Great value for the price
Customers also bought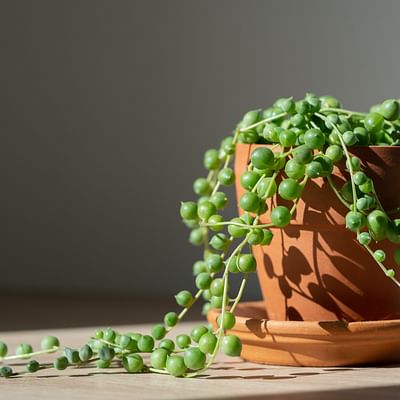 Senecio Rowleyanus String of Pearls Succulent for Home Office (20-30cm in Pot)

Do you have a String of Pearls plant and don't know how to take care of it? Look no further! This guide will tell you everything you need to know about watering, fertilizing, and giving your String of Pearls the light it needs.