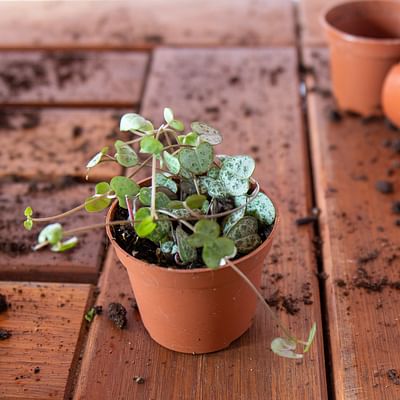 String of Heart Plant (Not Variegated) Rare Beautiful Ceropegia Woodii Trailing Succulent (4 inch)
Description
『𝗜𝗡𝗖𝗟𝗨𝗗𝗘𝗦』 (1) Beautiful live String Of Hearts Ceropegia woodii succulent plant fully rooted.
『𝗙𝗟𝗢𝗪𝗘𝗥𝗦』Bloom mostly in summer and fall
『𝗗𝗜𝗙𝗙𝗜𝗖𝗨𝗟𝗧𝗬』 Relatively easy, great for beginners
『𝗪𝗔𝗧𝗘𝗥』Water every 1-2 weeks depending on need of individual plant. Allow soil to dry out completely between watering. Do not overwater or plant may develop root rot.
『𝗟𝗜𝗚𝗛𝗧 & 𝗧𝗘𝗠𝗣』Place in shaded or partial-shade only for outdoor use. Indirect light for indoor use. Leaves may yellow or brown due to overexposure from sunlight. Plants may be placed in bright or low light depending on individual need.
『𝗡𝗨𝗧𝗥𝗜𝗘𝗡𝗧𝗦』Fertilize during the growing season with an all-purpose plant food.
『𝗚𝗨𝗔𝗥𝗔𝗡𝗧𝗘𝗘』We guarantee plant's safe arrival otherwise we will refund or send you a replacement plant
『𝗡𝗢𝗧𝗘𝗦』Plants may not be identical to the photos as they are live plants and grow differently throughout the year. Colorful plants will fade due to being in a dark box for several days but should brighten back up with the correct lighting and care. Plants may arrive taller, shorter, wider, narrower, thicker or less thick based on health, availability, season and readiness.
Additional details
Features
Manually verified quality product
Great value for the price
Customers also bought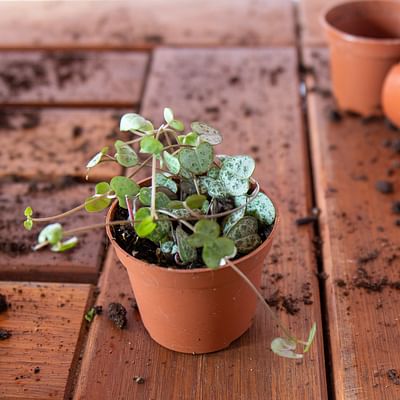 House Plants String of Hearts Indoor Garden (String of Hearts)

Learn how to care for the String of Hearts houseplant (Ceropegia woodii). Discover plant care tips and advice, as well as information on ideal temperature range, sunlight requirements, soil type, and more. Perfect houseplant for beginners!