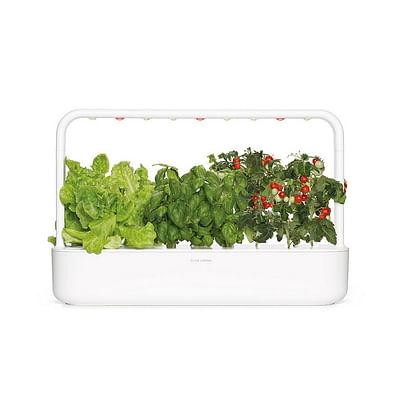 The Smart Garden 27
Description
Grow the freshest herbs, fruits and vegetables at home with the Smart Garden 27.



Experience the benefits of eating fresh, organic food all year round with the help of the Smart Garden 27. The garden does all the work by providing plants with light, water and nutrients in just the right amount to make them thrive.



The system works like a capsule coffee machine, but for plants. Instead of different flavours, we offer a variety of plant pods with seeds and nutrients inside.



What you'll get:



3 x Smart Garden 9 and 1 x Click & Grow Plant Stand (sent separately)

9 x Basil; 9 x Lettuce and 9 x Mini Tomato plant pods included

The Plant Stand's frame is made from pine and the shelves from premium birch plywood. Features decorative metal details and a felt bag to store indoor garden accessories.

Free standing, but can also be mounted to a wall

Plant Stand dimensions are 47 x 26 x 10,3 inches

Easy assembly - all the instructions are included with the product. Tools included : L wrench hex4 + PH2

Save over $300 compared to purchasing components separately!
Additional details
Features
Manually verified quality product
Great value for the price

Learn how to start your own indoor herb garden for fresher and cheaper dinners. Discover the best herbs to grow indoors, tips for creating the perfect environment, and delicious recipes featuring fresh herbs. Start enjoying the benefits of fresh herbs in your cooking today!