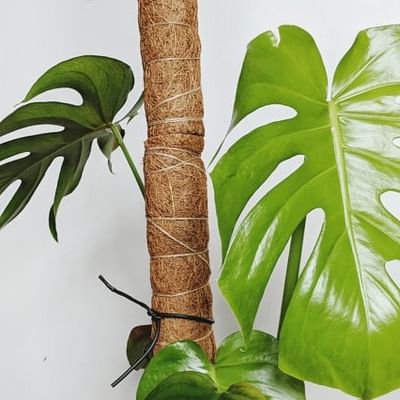 HFHOME Full Length 14 Inch Moss Pole, 2 Pcs 12 inches Coir Totem Poles Plant Support for Climbing Indoor Potted Plants, Coco Sticks for Monstera Pothos Creeper Philodendron House Plants Live Grow
Description
【Renewable & Environmental】 The moss totem pole is made of natural coconut shell moss fiber, benefit for your climbing plants. It could absorb water to keep plant moist and nutrients longer.

【Lengthening】Each palm stick is 12'' high long sticks and could be stacked. 14 inch total height is available by inserting one pole into another one, providing reinforcement as your plant grows taller..

【Sturdy Support】The sturdy sharp-edged wooden stick makes the pole easy to insert into the soil, providing strong support for plant expansion. The rope wrapped around the pole securely holds the coconut shell moss for long-term use.

【Widely Used】Totem coir pole is the ideal support for various indoor climbing plants, good for climbing plants and creepers such as Pothoes, Money Plant, Monstera.

【Free Combination】You can extend the coir totem pole since the wood thorn can be inserted from the other end to increase the length, so the length will not be insufficient due to the growth of plants.
Additional details
Features
Manually verified quality product
Great value for the price
Customers also bought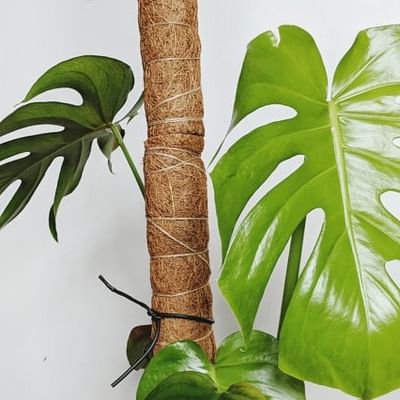 Remiawy Moss Pole 69 Inch, 6 Pack Plant Moss Pole for Plants Monstera Pole, 15.7 Inch Coir Totem Pole for Climbing Plants Support Extension Indoor Moss Sticks with 65 Feet Garden Twist Tie

Moss poles are a great way to teach your plants how and where to grow. In this plant care guide, we're going to look at how you can use a moss pole for your climbing plants. A moss pole might seem intimidating at first, but once you've used it for the first time, it's really nice and easy to use.

Philodendrons are beautiful plants that grow vines with heart-shaped leaves. In this guide, we'll go over how you can take care of a Philodendron plant yourself and help it to grow and thrive.

The Golden Pothos is not difficult to take care of, but it might also not be the best plant for beginning plant owners. It requires a fine balance between dry and wet soil and a bright spot in your house. Find out exactly how to take care of this beautiful plant in this comprehensive plant care guide.