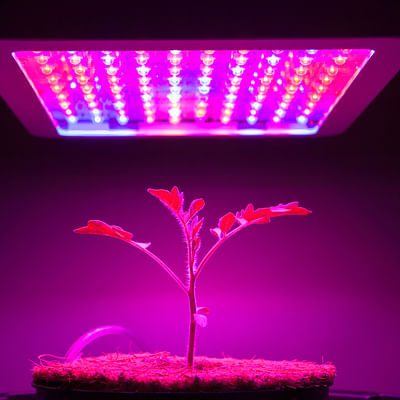 Grow Light with Stand, LBW Dual Heads Full Spectrum Grow Light, 200W LED Plant Lights for Indoor Plants, Auto On/Off Timer, 6 Dimmable Levels, 3 Switch Modes, Adjustable Tripod Stand 15-63 inches
Description
Upgraded Dual Head Grow Light with Stand: This indoor grow light has a flexible dual head design, and is equipped with a tall & stable tripod stand extendable from 15 inches to 63 inches, which provides a larger illumination area for tall and large plants, and the gooseneck also makes it more flexible to use. You can set the grow light at any height and in any direction to get the desired illumination angle, it's ideal for all kinds of your plants at all growth stages.

Full Spectrum Plant Light: Equipped with 100 high efficiency LEDs (12 Red + 60 Warm White + 28 Cold White), this grow light emits full spectrum light from 380nm up to 800nm, which is professionally designed for indoor houseplants. Similar to the sunlight at noon, this plant light provides high luminous efficacy for more plants, at the same time, saves your electric bill.

Auto on/off Timer Everyday: This growing light has 3 cycle timing settings (3/6/12H) which will stay on for 3/6/12 hours, then off for 21/18/12 hours and will automatically turn on and off at the same time the next day, no need to unplug/re-plug. It will take good care of your plants while you are at work or on vacation, easy & convenient!

3 Lighting Modes & 6 Level Brightness: This LED grow light has 3 switch modes, each light can be controlled individually, you can turn one light on, the other light on, or both on. It also has 6 brightness settings, to meet each plant's lighting requirements at different stages, without worrying about burning your plant.

Easy to Use: Just within 2 minutes! Screw up the tripod, gooseneck, and the plant light, adjust the height and angle, done! High-quality LED beads have a 50,000h lifespan. 12 months warranty plus 30 days satisfaction or return guarantee, 100% money back. Contact us first if any issues and we will make it OK.
Additional details
Features
Manually verified quality product
Great value for the price

In this plant care guide, you'll find everything you need to know to take care of the Cast Iron Plant (Aspidistra elatior). Learn how to water, fertilize, propagate and repot your plant. Keep it healthy with tips on dealing with pests and other issues you might find.

Philodendrons are beautiful plants that grow vines with heart-shaped leaves. In this guide, we'll go over how you can take care of a Philodendron plant yourself and help it to grow and thrive.

Houseplants, like people, behave differently based on the time of year. But how do you give your plants the best care during this time of year? In this guide, we'll go over everything you should know about plant care in the winter.