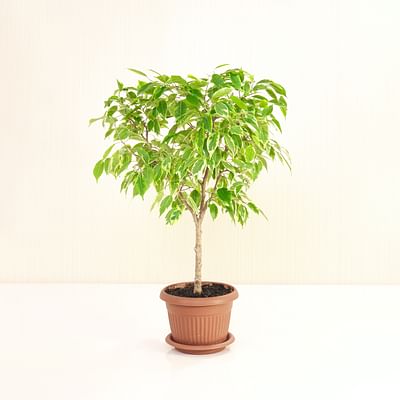 Hello Plants | Ficus Benjamina Goldenking
Description
Haal wat groen in huis met deze mooie Ficus Benjamina Goldenking. De kamerplant is makkelijk in onderhoud en komt vers van de kwekerij. Daarnaast werkt de plant ook luchtzuiverend, niet alleen leuk voor in huis, ook nog een praktisch!Over het merk: Hello Plants levert planten van de hoogste kwaliteit rechtstreeks bij u aan huis. Al onze planten worden vers geplukt uit onze plantenkwekerijen. Op deze manier staat Hello Plants in staat om een divers assortiment kamerplanten aan te bieden. Van de grote kanonnen tot kleine schattige plantjes, Hello Plants heeft het allemaal! Duurzaam kweken en duurzaam leveren is waar ze bij Hello Plants voor staan.
Additional details
Features
Manually verified quality product
Great value for the price

New to houseplants? This guide provides beginners with tips on how to care for a Weeping Fig (Ficus Benjamina) and keep it healthy, including information on pruning, propagating, and pest control. Start taking better care of your weeping fig today!