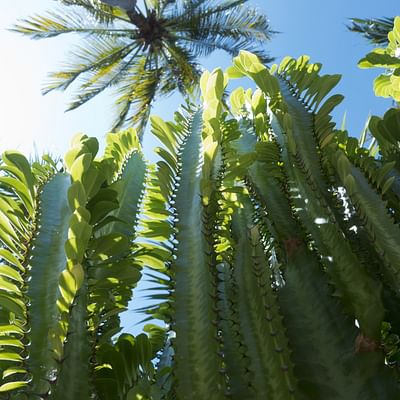 Original African Milk Tree, Euphorbia trigona Green, Non-Variegated, Giant Big Thick Multi Branches, in a 4 inch Pot, Well Rooted Beautiful
Description
Common names include: Original African Milk Tree | Scientific name: Euphorbia trigona|Shipped well-rooted & potted in a 4 inch plastic pot with soil and ready for a size up! Euphorbia trigona is a perennial plant, up to 9 feet tall. It has an upright stem that is branched into three or four sides. The stem itself is dark green with V-shaped light green patterns. These cacti don't mind getting plenty of sun. Just be sure to watch out for sunburn marks or spots and move the plant accordingly. No stress watering; only water when the soil is dry. After a little practice, you can tell the soil is dry by feeling the weight of the pot. It is a lot heavier right after a watering.
Best used to add vibrant and unique colors to the landscape .Ideally suited for office or home interior. The plants flowers are white or a combination of white and light yellow Easy to care for, low maintenance, healthy well-rooted starter plant, Rare Live Succulent, air-purifying, stress-decreasing. . Grows well indoors and outdoors. Ready for a size up of its pot! Perfect for arrangements, hanging baskets, planters, containers. The ideal gift for mothers day, gift for dad, wedding present, birthday surprise, group events, and zoom team meetings.
Additional details
Features
Manually verified quality product
Great value for the price
Customers also bought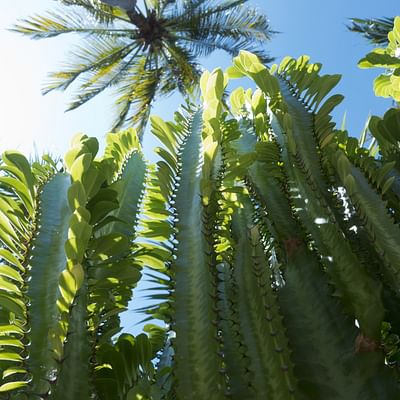 Euphorbia TRIGONA RUBRA - Desert Candle Cactus - Indoor House Plant in 17cm Pot 55 cm Tall

Find out which houseplants are easy to care for and love the sun. Learn how to pick a spot in your home, water them properly, give them good light and other great tips.

Wondering how to take care of your new African Milk Tree? This plant care guide provides easy-to-follow instructions on sunlight, watering, fertilizing, and more. Help your African Milk Tree thrive in or around your house!